Testimonials
Bicycle in Bruges
After my European vacation, I wanted Rachelle to capture one of my photographs and paint it. We reviewed several and she wanted to paint this one. It was taken when we were walking through a little neighborhood in Bruges, Belgium. It was such a cute bike, we just snapped the picture and kept on walking. When Rachelle completed the painting, we honestly could not believe how beautiful and detailed it was. The shading in the cement and the detail on the lace curtains are amazing. We have proudly shared this piece with many friends by displaying it for over 10 years. I would highly recommend Rachelle to commission a custom piece. You will not be disappointed.
Kelly Martin, Peoria, AZ
----------------------------------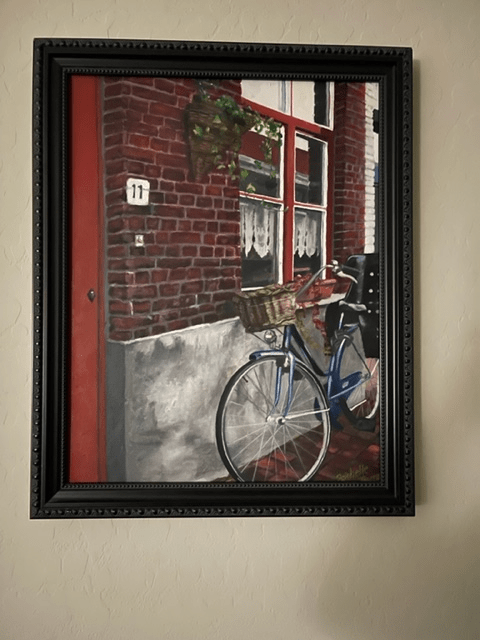 Rachelle's art is clearly always a result of some inspiration from the simple to the personal and complex. The level of emotion and resulting detail in each piece is inspiring in itself. Each piece is so much more than an effort by an "artist". It is easily recognizable as a small piece of the entire person behind the brush.
Rachelle's work has inspired me personally to become a fan of the arts.
It is with a heavy heart that I look forward to witnessing her continue success and the resulting continued departure from her personal collection of these pieces of art that are clearly more than a "piece of art".
- Bill West, Gilroy, CA
---------------------------------------------------------------
"To know Rachelle as a person is a deeply moving experience and her art reflects the phrase, still waters run deep. The depth of her humanity is expressed throughout her art, you can see her passion play out in pen and ink, the stillness captured in a photograph, and the depth of her soul in her paintings.

To own a piece of Rachelle's art is both an honor and privilege.

Owning her art allows you to possess a little bit of beauty, framed and communicated through her unique POV, to feel a connection to our world in a different way every time you glance upon it."

Joshua Hughes, Fairfield, CA